Luxury is often defined by a price tag, but for me the real luxury is the luxury of time. To be able to travel to different parts of the world, experiencing different cultures and having the time to connect with the local people and their land is what gives me the most pleasure and it is what I value most.
To have the authentic experience often requires a little more time, effort and sometimes courage to step out beyond my comfort zone. It is then that I get excited, reaching behind and underneath the sanitised version of a country and find out what it is like to live, cook and eat as a local.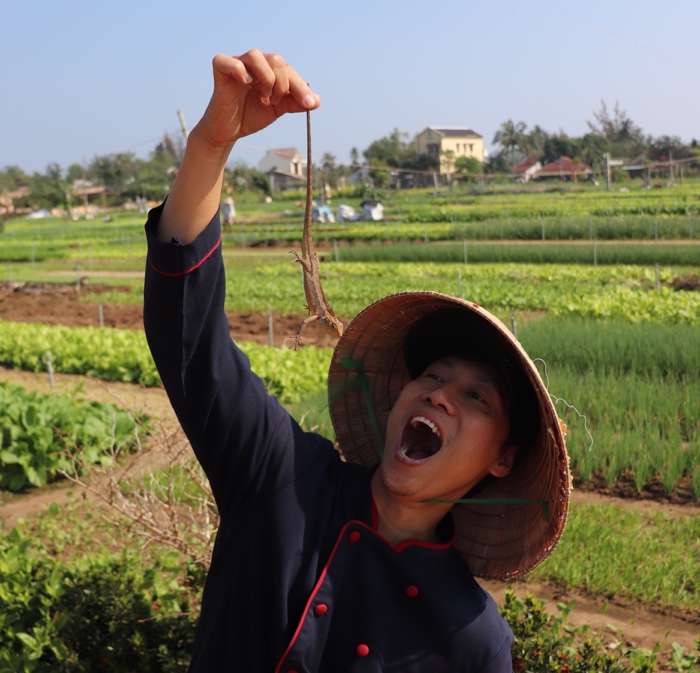 I took the opportunity on my recent trip to Vietnam to indulge myself and explore Vietnamese cuisine and what makes it what it is. From the moment of stepping out of the airport it was a feast on the senses that went beyond simply the food. My six week trip took me from the North to South, from rural dishes in the poorest province to fusion cuisine and the wealth of the capital.
Some of the takeaways that are close to The Full Spoon ethos, and reaffirmed our approach and why we do what we do, included:
Farm to fork
Vietnam is seeing the inevitable expansion of packaged, processed foods and the supermarket chains, but there is still a vibrant 'farmers market' scene on a grand scale even in the larger cities.
Many households who do not grow their own, visit the market to shop for fresh ingredients, at the beginning and end of the day. The market and street vendors are often still the farmers and fishing family members selling produce live, caught or cut and picked from the water and fields that day.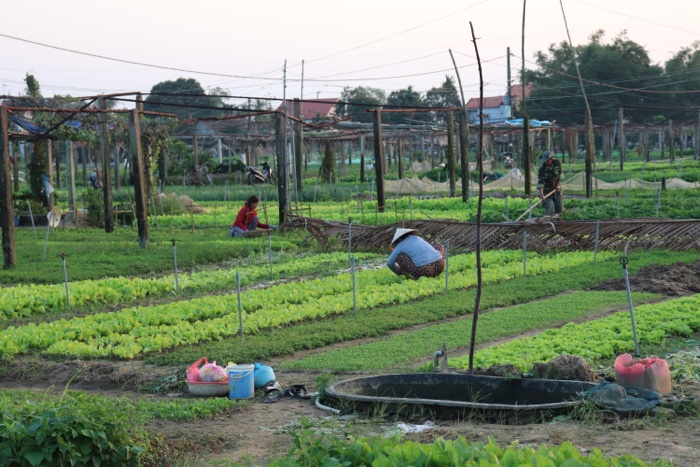 TAKEAWAY 1 – Whenever possible grow and source local. In an ideal world zero food miles and as a minimum source seasonal produce, substituting with local alternatives the exotic fruits and vegetables that cannot be sourced or grown back in England.
TAKEAWAY 2 – Go fresh, fresh, fresh and let the ingredients do the talking.
TAKEAWAY 3 – Expand the herb garden and focus on growing the leaves and vegetables that lose their vibrance, texture and flavour when they sit on the shelf awaiting consumption.
Nothing goes to waste – a recirculating system
From the rural farming communities (often impoverished financially) to the authentic Vietnamese city restaurant, nothing goes to waste. In the field there is a symbiotic relationship between the farmers, animals and land. From the water buffalo clearing the paddy fields of weeds and last years crops, turning the soil and fertilising the fields. And the fish in the water butts clearing them of vegetable remains as a result of washing leaves and adding nutrients for the watering can.
History and culture has lead to a cuisine that embraces nose to tail, comb to claw and flower to root eating.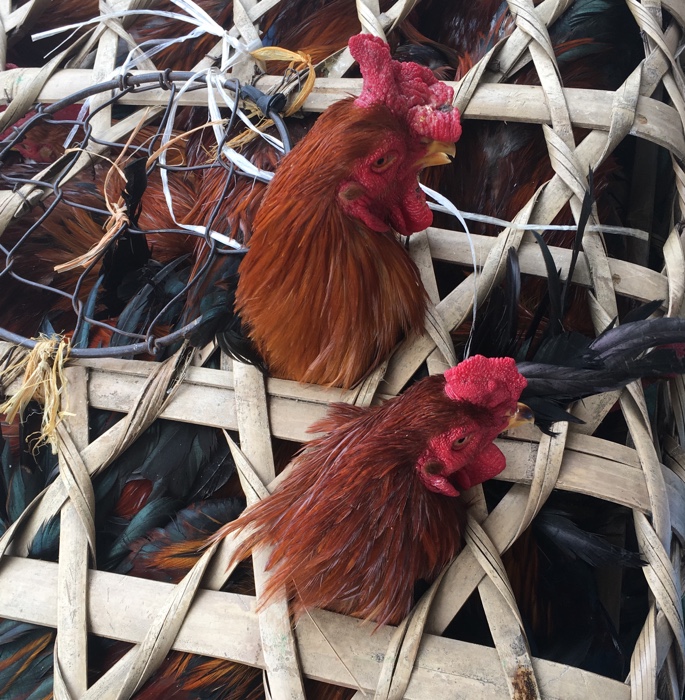 In Vietnam, nose to tail eating really is for everyone, not just the discerning foodie enjoying lunch at restauranteur Fergus Henderson place St Johns. He coined the phrase 'If you're going to kill the animal, it seems only polite to use the whole thing'. A principle I agree with. As producers and consumers of food we should show respect and be responsible for what we eat and to understand the provenance of our food is important.
TAKEAWAY 4 – Where possible support a recirculating system, where everything gets fed back into the food cycle, whether composting, feeding animals and even up-cycling (using the nuggets previously discarded!)
TAKEAWAY 5 – Create, test, learn and have fun exploring new flavour combinations to surprise and delight friends, guests and diners.
TAKEAWAY 6 – Waste not, want not.
Simple honest food and sharing love through food
On entering the Vietnamese kitchen it was easy to be convinced that good food comes from simplicity. Much of Vietnamese cuisine consists of simple dishes where less is often more. Less garnish, less protein, less complicated cooking methods, smaller plates and bowls, self assembly and chop sticks!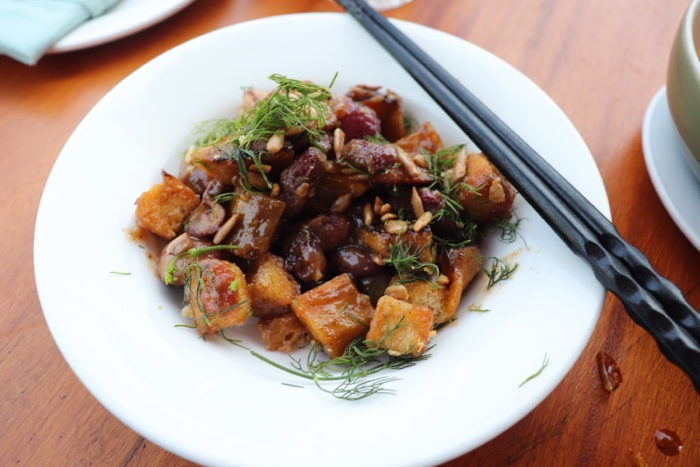 Not every dish looked overly pretty, more often understated with any garnish having a purpose, often giving a punch or a hit that helped elevate the simple and natural flavours of a dish to another level.
Throughout the trip (although more in the North) the presence of less protein in many of the dishes was noticeable, but not disappointing. There was no upset with a 'beef' pho with a great beef stock, considerably more noodle and herbs and salad than beef or a delicious pomelo and passion fruit 'prawn' salad with three hard to find prawns. The meat did its job without the need to take centre stage.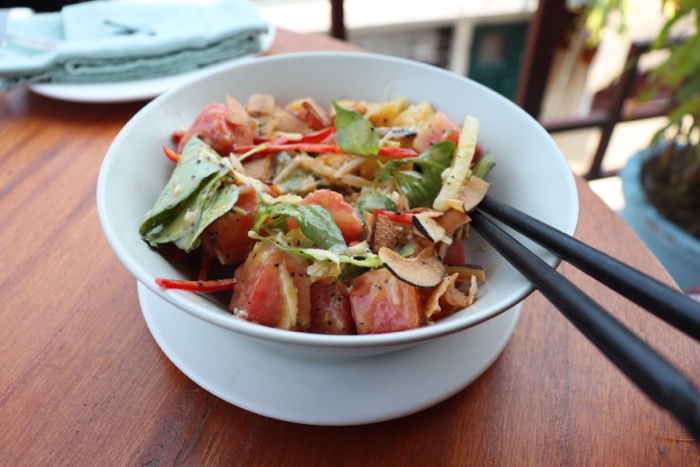 Vietnamese palates do vary from north to south, but no matter where they are, local cooks work to balance hot, sour, salty and sweet flavours in every dish.
There is no doubt that having access to great fresh produce reduces the need for much intervention and so maintain the unique qualities of the produce; like the earthiness of beetroot or shellfish and the taste of the sea. Many of the Vietnamese meals we ate and cooked were made fresh and light owing to plates heaped with gorgeous fresh herbs that seem to accompany every meal.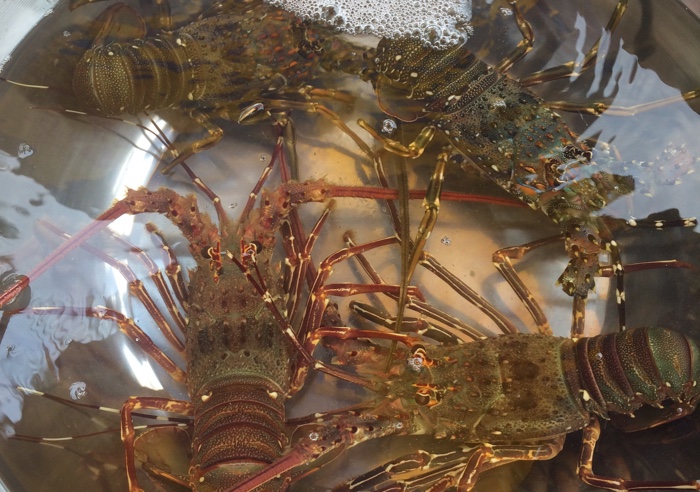 Whether eating with a family at a homestay, sitting on a plastic stool on a street corner or more comfortably in a restaraunt as a diner you have the opportunity to create. Dishes are placed on the table, either for self assembly or the balancing of a dish with herbs, chill and fish sauces, fermented garlic and delicious citrus fruit like the kalamansi, to allow you to make something unique.
The combination of culture and the political system has meant the family unit is strong with often multiple generations living under one roof. And with this the Vietnamese make time to cook and eat for and with their loved ones. It is a time to share, connect and be present with the food, family, laughter and conversation.
TAKEAWAY 7 – Fresh herbs don't take up much space, many aren't too demanding to grow (perhaps under glass accepting our British weather). Coriander, mint and anise-flavoured Thai basil will have a greater presence in our dishes this summer for sure...
TAKEAWAY 8 – . The journey reminded me of a key reason why we do what we do – it's the pleasure of making people happy through the food on their plate and the dining experience. Today people are increasingly experience seekers.
TAKEAWAY 9 – There is an increasing number of people who are concerned about the environment and want to be more socially responsible in their food choices, having understood the potential impact on the near future.
To conclude, our Vietnamese foodie tour left us excited and inspired with plenty of ideas to take home and incorporate into our day to day eating, wedding feasting and pop ups too.